Sammy Hagar Plays Contractors' Holiday Party
Greg Jenkins and the Team at Bravo Productions incorporate the Scentevents system to enhance the performance of Sammy Hagar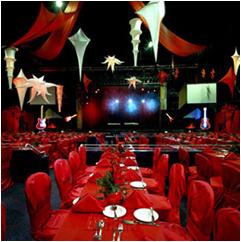 KH&S Contractors chose a potent all-red theme for its holiday party and brought Sammy Hagar for a two-hour concert. The party was a red-hot ticket, so to speak. Or, at least, the look of the event on December 1 at the Grove in Anaheim for 800 guests featured red in abundance – a nod to both the traditional holiday hue and the company's record-breaking sales year.
The main space featured 10-foot-tall columns covered in red fabric, from metallic shag to sequins. Giant flower displays incorporated red purses, Western boots, heating and plumbing supplies, chains, feathers, and other miscellanea. A 40-foot-long water wall served as a focal point to the stage, where Sammy Hagar performed a two-hour concert of both old and new tracks. Invitations and guest credentials had the look of concert tickets. Four scent machines gave the space the scent of cinnamon candy.