Stepping into a boxing gym, you might be overwhelmed by the scent of athletes, though it's not something you would want to bottle. But when Manny "PACMAN" Pacquiao steps outside the ring, he wants to impress his legions of fans with a different scent.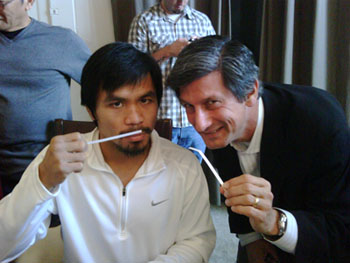 A scent that is fresh and powerful! Perhaps a fragrance that is citrusy and woody with hints of lavender, nutmeg and sage, grounded with a touch of vanilla, amber and cedar.
The fragrance design team of Harris Fragrances- Neal Harris along with perfumer Chris Buccellato of Custom Essence have created "MP7" Cologne a refreshing and powerful fragrance for Manny Pacquiao, who recently unveiled an entire line of Manny-all-the-time merchandise in his new Hollywood store, situated steps away from the Freddie Roach operated Wild Card Boxing Club in Hollywood, where the champion trains when in Los Angeles.
"Its how he wants to smell," said Harris who was impressed with Pacquiao's hands (nose) on approach, involvement and intensity during the development of the fragrance. "Manny carefully guided us on his preference for the design of his scent, he had a very clear direction and applied precision to this project – very much like boxing for a world title," said Harris.
When the two would smell sample options, Harris noticed in Pacquiao, a champion style in any arena he enters.  "The way he focuses on something is unbelievable," noted Harris. "When he wants something there's an unbelievable drive to make it happen which is impressive and inspirational."
This drive towards excellence has given Pacquiao 51 boxing wins including seven world titles in seven different weight divisions. He is the winner of  the Writers Association of America "Fighter of the Decade", is listed "Number 1" pound-for-pound best boxer, and he recently became the first active boxer to become a congressman in the Philippines.
"Manny Pacquiao represents what can be done when one puts their heart, soul and total dedication into a project.  He is a leader in so many ways and a world class motivator for all of us," says Harris. "We have enjoyed working on this fragrance and continue being positively inspired by Manny and his accomplishments- he is a true Champion!"