World-Class Boxing Champion and Fighter of the Decade, Manny "Pacman" Pacquiao will deliver a power-packed punch to the fragrance market this summer with the launch of his very own signature men's cologne, MP8 Scent of The Champion. MP8, which signifies his unprecedented eight world boxing titles in eight different weight divisions to-date, is described as a refreshing, yet powerful scent which bestows confidence and coolness under pressure – the exact traits that have made Manny Pacquiao one of the most beloved and respected boxers of all time.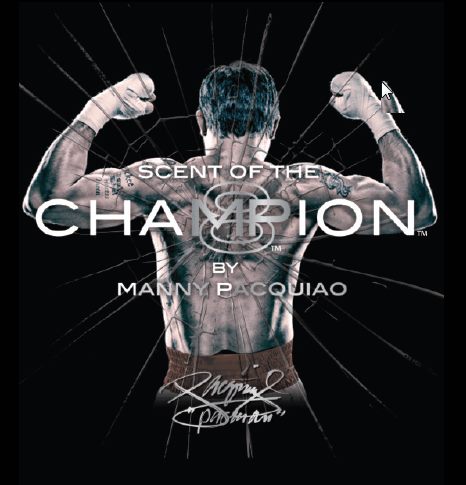 MP8 Scent of The Champion is not only representative of Pacquiao's boxing triumphs, but also an expression of one's multi-dimensional and good-natured spirit. "Even though it took a year to develop this fragrance from concept to launch, the effort was worth it. It is my hope that hardworking and determined men who wear MP8 will feel confident in their own skin and share that positive attitude with everyone…diligence breeds confidence," said Pacquiao.
Pacquiao developed a scent that best personifies his champion swagger and attitude and called upon esteemed fragrance consultants and renowned industry noses, Neal Harris of Harris Fragrances and Chris Buccellato of Custom Essence. "MP8 Scent of The Champion is quite simply a fragrance modeled after the way in which Manny wants to smell," said Harris. "We were extremely impressed with his approach, involvement and dedication to get it right; much the same as he performs as a Boxer, Congressman, Humanitarian and Artist."
The fragrance has top notes of bergamot and lemon, middle notes of lavender, vetiver, nutmeg and sage, and base notes of sweet musk, vanilla, amber and cedar. Pacquiao added, "We had a definite direction and the end result is a scent that we are betting men from around the world will embrace." Synonymous with beauty, design and style, Pacquiao turned to Ron Robinson as the exclusive retail partner to help catapult MP8 Scent of The Champion into the marketplace. To celebrate the national launch, Robinson will also host Pacquiao for an exclusive celebration at his eponymous boutique at Fred Segal on Melrose on April 30th, 2011. There, Pacquiao will debut MP8 Scent of The Champion to the masses, including a roster of his closest A-list friends.
MP8 Scent of The Champion will be available exclusively at RONROBINSON | Fred Segal in Los Angeles beginning May 2011, with a rollout to select specialty retailers in the US and the Philippines. The limited-edition scent will be sold in 100ml, exquisitely designed bottles at an SRP of $55.00. Limited products are also available for pre-sale at www.mp8fragrance.com.