Johnnie Walker Gold "sensuality: indulging the senses"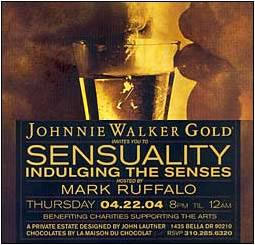 Mark Ruffalo of the recently released "13 Going on 30" hosthisted this benefit. Guests (including Freddy Rodriguez, Jason Behr, Jennifer Siebel, Hal Sparks and Kadee Strickland) were chauffeured to the fabulous "Bella House" overlooking Hollywood, Beverly Hills and the romantic Los Angeles skyline on a perfect spring evening.
Live gold statues welcomed attendees, as the sensual aroma of chocolate by La Maison Du Chocolat subtly filled the air. Richness and sensuality were enhanced with candles throughout. The warmth of vanilla and luxurious leather gently wafted through the air as guests enjoyed a tasteful array of exquisite h'ours dourves, Johnny Walker Gold scotch and fine chocolates.
Throughout the evening taste and sense awareness were demonstrated by the Johnnie Walker Ambassador as he artfully guided guests to savor the richness of fine chocolate by gently taking a "kiss of gold? while inhaling the delicate aroma and enjoying sumptuous taste sensations. Scentevents® developed custom scents of Natural Vanilla, La Maison Du Chocolat and Warm Leather especially for this event of luxury.