Paul Mitchell's early-evening event at a rooftop garden and loft in Rockefeller Center used two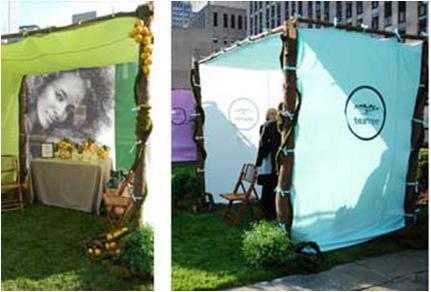 distinct areas to launch two product lines to beauty editors. Curly or straight, coarse or fine, long or short, hair can have opposing qualities, so why not a dual-themed party designed to showcase two dramatically different new product lines from a professional hair-care product manufacturer?
Last night about 65 beauty editors gathered at 620 Fifth's loft and garden for the Paul Mitchell Pro Tools and Tea Tree launch event. The doubleheader was designed to introduce the editors (and, it follows, their readers) to the company' newly revamped Tea Tree line of shampoos and conditioners, as well as its new Pro Tools line of professional appliances.
Overdevest wanted the garden part of the event to reflect the experiential aspect of the Tea Tree products; to that end, piped-in aromatherapy from Scenteventsreplicated the scent of each product line, and guests were treated to hand massages and pulse-point massages using the line's soon-to-be-released body moisturizers, as well as scalp massages. "We're trying to hit all the senses," Event Energizers' John Ierardi said.