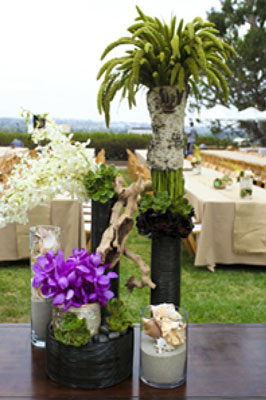 Having an eco-friendly wedding doesn't mean sacrificing style! LA event designer, Pamela Ferrari Productions designed a most unique and truly sustainable environment which was a feast for the senses!  The sensual experience began as guests walked down a private walk-way leading to the lush garden setting.  Engaging master fragrance creator Neal Harris of Scentevents, well known for his signature fragrances, the scent of a fresh pine- forest set the stage for the Desert, Forest and Mountain theme requested by the bride for her ultimate wedding environment.
Pamela Ferrari Productions incorporated a variety of elements to engage and delight all the senses – sight, sound, taste, touch and the often overlooked sense of smell.  Adding the scenting element for this event was a touch of genius as an unexpected odor from a neighboring home could have been an unpleasant experience for guests upon arrival.
A wide variety of desert succulents and native plants displayed in hewn out logs, and elevated with a variety of tree bark, flowers crafted from thin slivers of wood fiber replaced cut flowers.  Centerpieces were surrounded by natural river rock, recycled glass candle containers and pebbles strewn along the tables atop natural burlap runners over unbleached linen cloths. A collection of hand-made, lace, natural fabrics, antique picture frames and vintage furniture transformed the backyard garden into a vibrant, warm and inviting setting, using only sustainable decorations, table settings and food service presentation.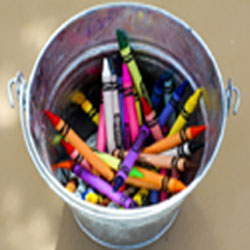 The Pamela Ferrari Productions commitment to creating the total environment for every event, thoughtfully created an equally interactive Just 4 Kids zone to entertain and engage the younger guests.  Banquet tables covered with butcher paper, coloring books, puzzles and big baskets of crayons welcomed otherwise bored youngsters to draw, color, and doodle and create in their own little world.  Again, Neal Harris of Scentevents enhanced the experience by flooding the kids area with the scent of crayons – bringing the nostalgic sent of wax to the Kidz Zone and delighting grown-ups who recognized the familiar smell from their childhood.